Steel Wedges
Like many product lines across all industries, shortages of components, skilled labor and transportation difficulties are making it harder to deliver on time and stay within budget. Steel Wedges are no exception.
There are two ways The Steel Supply Company makes steel wedges. Standard stock sizes are made by a process known as Drop Forging. (Figure 1.) This requires a hard tool, or form, the heated material is driven into. Made to order steel wedges are instead cut, milled or ground from existing stock plate or flat bar using a system known as soft tooling. A blog is available for more information on Hard vs. Soft tooling.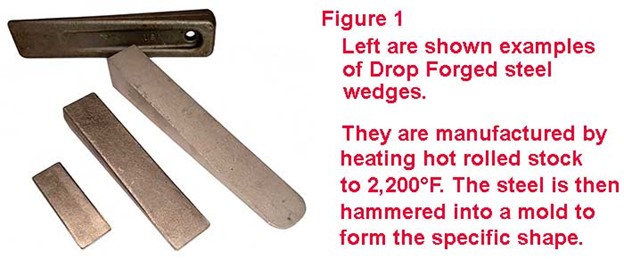 Steel Supply Steel Wedges: Stock Sizes
In the case of the Stock Sizes using the Drop Forged process, they can be of domestic or foreign origin. Domestic producers are seeing material cost increases as expected but are also limited in production due to labor shortages. Foreign manufacturers are not experiencing the same level of difficulty maintaining a labor force but instead are finding shipping delays, lack of container space on outgoing freighters and massive bottlenecks at American ports. In both cases delays are incurred and costs are escalating quickly. These circumstances create problems, however, the most basic work around is to order steel wedges far in advance of anticipated needs.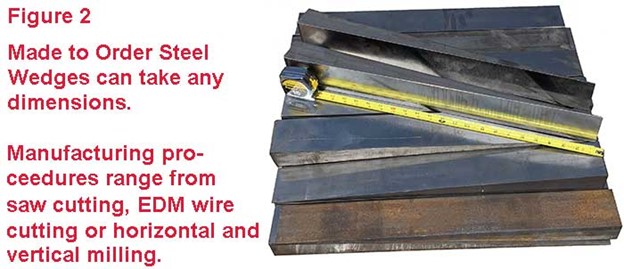 Steel Supply Steel Wedges: Made to Order
Made to Order Steel Wedges are a different problem. The quote requests and purchase orders usually come with required delivery dates that do not leave time for unnecessary delays. This creates the possibility of having to pay a higher price for the raw steel and having limited production ability. Despite the simplicity of the design of made to order steel wedges, it requires skilled machine operators to produce a quantity of wedges on time and at the minimum cost.
In the case of stock sizes, The Steel Supply Company has boosted steel wedge inventory to protect against shortages. Often quantities on hand represent more than a year of typical usage. Made to order steel wedges, due to their endlessly differing sizes, can not be stocked. For this reason it is important to place steel wedge orders as soon as dimensions as quantities are determined.