The Most Efficient Method of Sealing Vent Holes After Hot Dip Galvanizing
While absolutely essential to the galvanizing process vent holes become an obstacle after galvanizing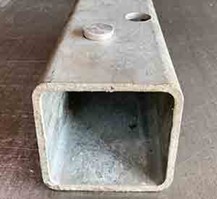 if they need to be closed. Prior to their introduction, Vent / Drain Holes were closed by welding. This is a time-consuming process that damages the zinc coating but more importantly produces toxic fumes that should not be inhaled. Vent Hole Plugs solve the problems with fast installation and minimal grinding of excess material. The entire process can take less than one minute.
The drain holes serve the equally important dual functions of;
Allowing air to escape safely and removing the danger of blow-back while the steel is immersed in the 850° F molten zinc.
Giving the liquid zinc multiple routes to flow through the inside of any closed spaces such as tube steel. Often mis-understood, it is more important to galvanize the inside or hidden surface of the steel. The inside of any tube or closed surface will actually decay faster than the visible outside surface, due to humidity and accumulated condensation.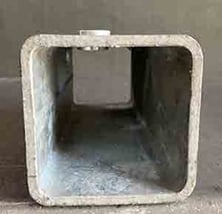 Using Vent Hole plugs the fabricator or erector can easily and permanently close the hole either in the shop or on the jobsite.
Plugs are available in Aluminum or Zinc. The Aluminum plugs are lower cost and will grind easier if the fabricator chooses to remove the excess. Zinc plugs have the advantage of matching the material to the zinc in the Hot Dip Galvanized coating, reducing any galvanic reaction to approximately 0.1 volt.
It is important to note that Zinc Plugs are individually molded to shape from molten zinc. As such
the larger diameters are made with an internal cavity. If the excess material is going to be removed it is important to drive the plug beyond the top of the cavity. (See Image) The aluminum plugs are solid throughout, regardless of diameter.
Galvanized Vent Hole Plugs are available in diameters from 1/4" to 6". View the catalog of sizes available. As always you are encouraged to call or email with any questions or requests.