Steel / Galvanized / Stainless / Construction Grade Plastic
Slotted / Solid / Wedge Shaped
As a major manufacturer of shims to steel fabricators and the general construction trades, The Steel Supply Company has provided shims to projects as diverse as Yankee Stadium and Hawaii's H-1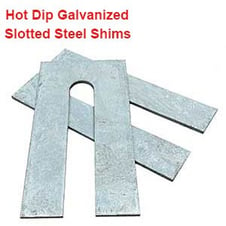 Highway.
In stock ready for shipment
125 Different size Slotted Steel Shims
65 Different size Hot Dip Galvanized shims
60 Different size Construction Grade Slotted Plastic Shims
80 Different size Solid Shims
Any size and dimension shim cam be produced to order.
The typical erection shim is steel, either plain or Hot Dip Galvanized and slotted to fit around structural bolts. However, any material can be used including Stainless-Steel, High-Density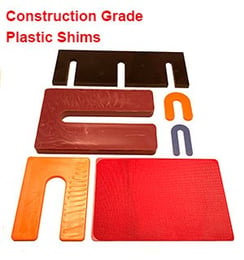 Polyethylene or Korolath Plastic.
Basic structural shims are 3" wide to accommodate the standard bolt distance and anywhere from 2" to 12" long. The slot width is either 9/16", 13/16" or 1-1/16".
For Made to Order specifications, using a combination of steel stamping, high-definition plasma, laser and water jet cutting, any size shim can be produced cost effectively.
Solid and Slotted Shims can also be machined to form Wedge Shapes.