Still one of the most useful tools in the box, the BLEED THROUGH BLUE marker helps fabricators mark steel once and have the marks remain visible throughout the fabricating and erecting process.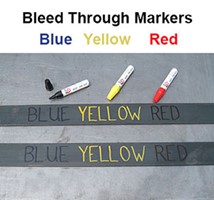 After primer coats are applied the marks bleed through and remain clearly visible.
A few important notes regarding Bleed Through Markers. One, they don't have to be blue ink. Red, Yellow and Black are also available. The choice usually comes down to which will offset better against the color of the Rust Inhibitive Steel Primer. Two, bleed through markers will only work with the type of coating they are intended for. Oil based coatings require the standard oil-based bleed through. Water based primers require a special, water-based bleed through. If the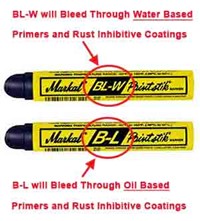 type of ink used is not for the coating it was intended for the piece marks will not bleed through the coatings.
The GALVANIZER'S MARKER works in the opposite direction. It will completely dissolve in the acid baths at the beginning of the Hot Dip Galvanizing process. This eliminates any chargebacks from the galvanizer for grinding off the marks and also the possibility the marks remain through the process and bleed through the finished zinc coating.
Galvanizer's markers use an alcohol-based formulas that can dissolve cleanly leaving no trace of the piece marks. For better visibility during fabrication they are available in a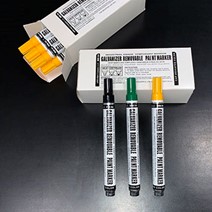 variety of colors:
White, Yellow, Green, and Black
They are available in a variety of barrel sizes to suit the volume of marks being made.
The Steel Supply Company provides Fabricators and the Construction Trades with a unique source of all the specialized products required in the fabrication and erection process. With any questions or requests regarding any of the items you may require feel free to call, email, or send a request via our website.