Bleed Through Blue Markers

There are basically two things to know. Paint Stick or Felt Tip, and Oil Based Primer or Water Based. The Steel Supply Company carries all the choices. The most popular is our exclusive Bleed Thru Blue Valve Action Felt Tip. The strong pigments in the ink give it a clear contrast with the oil based steel primer. Piece marks bleed through within seconds and continue to develop even after the primer is dry. Oil based products will resist water and can be left outside indefinitely. Steel Fabricators like this felt tip bleed through blue because it writes a clearer, well defined line and is cleaner to use. If the felt tip wears out we carry replacement tips although typically the tip lasts until the ink has run out.

For customers who prefer the Bleed Through Blue Paint Stick, these are always in stock along with all the other LA-CO Markal paint stick colors, Lumber Crayons, Dura Ball and Ball Paint Markers.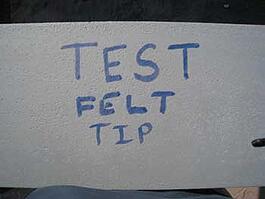 Fabricators using Water Based Primer have the same two choices, Bleed Thru Blue Valve Action Felt Tip or Bleed Through Blue Paint Stick. It must be the correct Paint Stick for Water Based Primer. Note, because they are water based an additional consideration is these products will both show deterioration in the elements, especially rain. The use of water based primers is usually dictated by the job criteria or local regulations and is not left to the fabricators discretion. In these cases, to avoid having the mark blur or run off, some fabricators will coat the marks with a clear lacquer aerosol when the primer has dried and the mark is fully visible.