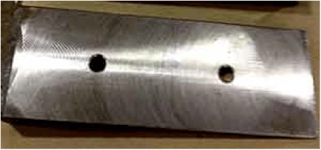 When making a steel wedge to order plans often call for a center hole that will be used for alignment or for locking the wedge in place. (See fig. 1) The hole can also be useful when removing a wedge while still under pressure.
Recently a contractor came to The Steel Supply Company requiring steel wedges that worked in tandem and required an Alignment Hole in the lower wedge and an Alignment Slot in the upper.
Tandem wedge pairs were placed every two feet between a concrete foundation on the bottom and a steel member above. The enormous pressure downward caused the wedge to walk sideways as they were being driven inward.
The Steel Supply Company fabricated these special tandem wedges and provided Upper and Lower plates. This system gave the lower wedge a solid resting place and the upper a consistent surface to slide against. The alignment pin kept the two wedges aligned as sledgehammer force was applied. (See illustration below)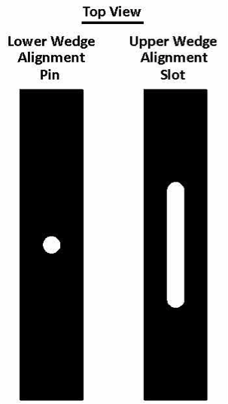 As would be expected there was significant machining involved in producing these pairs of steel wedges. There are a number of time consuming steps involved in producing a plain wedge, without alignment holes. For a description see the blog "Tapered Steel Wedges" posted on Nov. 06, 2013.
Added to that process is the hole drilled in the Lower Wedge which is a relatively simple process. The slot in the upper wedge required milling and considerable machine and operator time.
For wedges that require this much machining and expense the customer will often require they be Case Hardened to allow for many re-uses. For this particular job it was required they be left in place, so no hardening was required.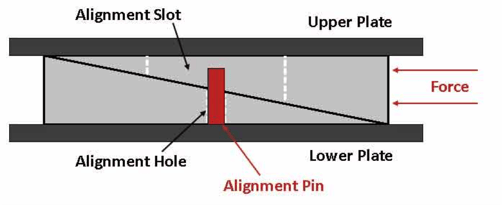 To download a free Steel Wedge Worksheet, click the button below.