In a previous article we described the process of making Made To Order Steel Wedges. See Steel Wedges - Made To Order This article will deal with the specifics of manufacturing the Russian Wedge, so called because of the unique Knock out Block at the large end. (see bottom right photo)
The Steel Supply Company was contacted by an oil field drilling company working in Russia. The extreme cold temperatures forced limits on how long their workers could be outdoors and how effective they could be. While driving a steel wedge is a straightforward process, removing it is often more time consuming. The steel block at the large end allows this wedge to be quickly driven out with a sledge hammer or slide hammer.
Most made to order steel wedges are made 2 at a time. It begins with a solid steel block that is slightly larger than the two wedges will be when set reciprocally. The block is cut diagonally and the rudimentary form is set. The Russian Wedge made this an ineffective method because of the knock out block.
To manufacture this as a solid piece required the following steps.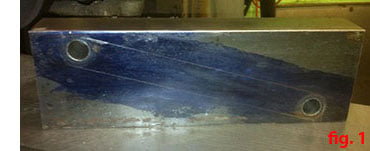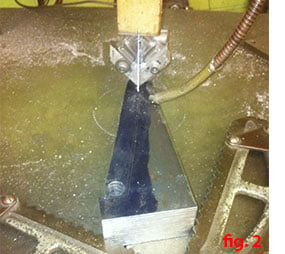 1) These wedges were still made two at a time. Pilot holes were drilled and a band saw blade passed through. Cutting was then guided by hand. This allowed for working around the Knock Out Block. (fig. 1 and fig. 2.)
2) The result is two roughed out wedges. Note they are both still oversized to allow for machining. (fig 3 below left.)
3) The wedges are then set in a shaper. This machine is usually used in gear manufacturing shops for removing the metal stock between the gear teeth. It is effective in the wedge manufacturing process because, as shown in fig. 4, it can accept two wedges at a time, it can be set to remove the stock to within several thousanths of the finished dimensions, and most important it can run un-attended.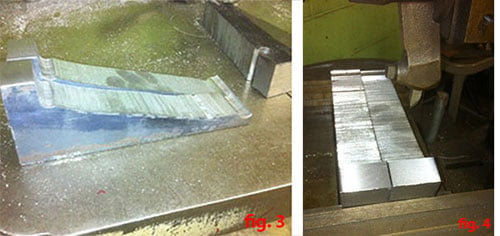 Once the shaping process is complete the wedges are milled to their desired specifications that will leave a smooth machined surface. (fig. 5) The final step is deburring, which in this case was done by hand.