Preparation During the COVID-19 Pandemic
The Steel Supply Company has taken substantial steps to maintain reliability and excellence for its customers, as well as safety for its employees.
The COVID-19 pandemic has drastically impacted all of our lives, and no industry or daily routine has been left unturned. As always, we here at The Steel Supply Company wish the best for everyone who has been affected by the virus, and our thoughts are with our customers and suppliers in particular.
While there is uncertainty as to how deeply COVID-19 will affect the construction industry, The Steel Supply Company is taking substantial measures to ensure its preparedness for our customers, and guarantee consistent supply of their requirements.
In addition, the safety of our own employees is paramount, and we have implemented precautions to ensure their well-being as described.
Outlined below are some of the initial steps that we have taken:
Currently, there are no indications that a shortage will affect the steel mills or distributors. However, The Steel Supply Company is still taking the proactive step of increasing our round bar stock to address the needs of our steel fabricators. In general, our stock is always purchased well in advance of any needs. During this time, however, stock quantities on any mill-direct items will be doubled for the extent of the pandemic.
All round bar stock will remain 100% melted and made in the USA and is ASTM F1554 certified. Our suppliers include: CMC, Nucor, and Steel Dynamics.
Domestic Hardware Inventory Has Been Increased
Manufacturers of domestic hardware, such as heavy hex nuts, are typically stocked for 10 to 14 weeks lead times. Regardless of any effects on the industry, The Steel Supply Company has increased its supply on all domestic hardware to accommodate for a 1-year lead time.
Consumable Supplies Have Been Increased

Any consumable supplies, such as thread chasers or cutting oil, have been doubled in stock.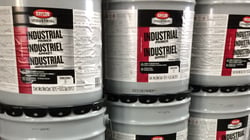 Paint, Primers and Coatings have a shelf life and should not be kept idle for long periods. However, we are confident in our ability to continue providing steel primer and rust inhibitive coating due to the depth of manufacturing sources. Our primary supplier, Krylon Industrial Coatings, has manufacturing plants and distribution centers all across the globe, and is capable of diverting production and distribution from multiple regions, if necessary. Additionally, there are hundreds of U.S. based independent paint manufacturers of varying size that can supplant any supply disruption should it be required.
The Steel Supply Company is gauging the response of all our current vendors to the pandemic; particularly items that are imported. We are specifically monitoring the situation of sand cast molded product vendors who supply hillside washers and wedge inserts. Many of these companies are overseas, and while their situation is as unpredictable as ours, The Steel Supply Company has increased its in-house supply of these items.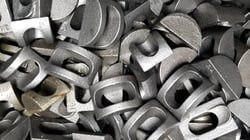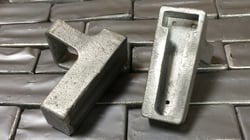 Employee Protection:
As for our own employees, The Steel Supply Company has adjusted work schedules. In compatibility with social distancing, anyone capable of working from home is doing so. Anyone required to be onsite (required office staff and manufacturing team) have had their shifts split in half, and they maintain the six-foot minimum distance while on-site.
The Steel Supply Company is fully complying with any requirements of both state and federal laws, and all operations during this time are done with safety as the number one priority for our employees, customers, and vendors. As always we want to wish everyone continued good health during this difficult time.