Maskote Zinc Stop-Off is the best solution we have found for keeping Hot Dip Galvanizing Zinc off areas of steel where it is un-wanted. Figure 1 shows tests that were performed in our factory. The Zinc Stop-Off was applied, the steel sent out for galvanizing, and when returned wire brushed to remove any residue or caked on zinc.

It is important to remember the Zinc Stop-Off is only there to block the connection that normally occurs between the steel and zinc. On the bare sections the molten zinc will form a molecular bond with the steel. On the coated surfaces the Maskote Zinc Stop-Off will block that bond from forming. During the pickling baths and immersion in the final zinc bath the yellow coating will oxidize, turning into a crusty black ash.
Once the galvanizing process is complete on the surface that were coated there will either be the black ash residue or zinc with the black ash underneath that may or may not be visible. Either way the zinc will not have adhered to the steel. It, or the black ash can easily be wire brushed away. Figure 2.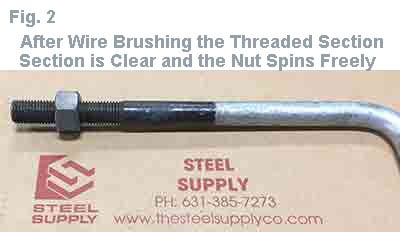 Maskote Zinc Stop-Off is available as a liquid in quarts or gallons. It is also available as an aerosol. The aerosol version is thinner, i.e. lower viscosity, to allow for the spray. It does apply differently and in some cases multiple coats are required. One important point with re-coating aerosol Maskote is there should be only a short waiting time between coats, approximately 1 minute. This differs from typical paints and coatings that usually have specific, sometimes prolonged waiting periods before re-coating.
A detailed instruction sheet is available on our website covering all the steps and important points when applying Zinc Stop-Off. (Click Here)
It applies to the liquid form. The Steel Supply Company is currently experimenting with the Aerosol version and will produce an instruction sheet when the tests are complete.