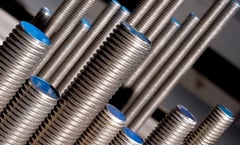 All threaded rods come in a variety of steel grades, heat treating processes and coatings. For the Steel Fabricator, it is fairly easy if the call outs are all written correctly on the shop drawings, but often the drawings blur the specifications.
For example, we frequently we see requests for Threaded Studs with an F1554 specification. ASTM F1554 is the specification for Anchor Bolts, either Hooked with threads on the exposed end, or Straight with threads on both ends. When the rod is threaded from end to end it is no longer considered an anchor bolt and technically is not covered by the ASTM F1554 Specification. The same holds true for Turnbuckle Rods which are not covered in F1554 but frequently get specified as such.
Grade
Regardless of the endless variety of grades and specifications of All Thread, for the Structural and Miscellaneous Steel Fabricator it can be narrowed down to:
Carbon
A307 Low Carbon Steel (F1554 A-36)
Grade 55 (F1554 GR-55 S-1)
A449
B-7 (F1554 A-105)
Stainless
302, 303, 304 (For threaded rod purposes these are often combined)
316
316L
Note, of the seven grades shown above, only 3 are covered by ASTM F1554.
Coating
All of the carbon steel threaded rods are available in plain steel, zinc blue or zinc yellow and hot dip galvanized. This is another area where the specifications cross lines. ASTM F1554 calls for coatings to be applied after all fabrication is complete. When Galvanized threaded rod is cut to specific lengths as required by the customer the cut ends, along with the chamfered area are not galvanized. This is easily repaired with Cold Galvanize Compound but its viability as a galvanized stud has changed. To strictly adhere to the specs the rod should start out with a plain finish, be cut to size, chamfered and then finally coated as a last step.
Point of Origin
Point of Origin should also be considered. A lot of threaded rod is imported, mainly from China and South Asia. Most privately funded jobs don't have a source requirement so these imports are acceptable. On the other hand jobs even partially funded with public funds usually have a domestic requirement. Many domestic thread rollers get their raw stock from offshore steel mills, such as those in Turkey, and roll the threads in the United States. Technically this would count as Made in USA since the manufacturing was done here, but the specs often require Melted and Made in USA, which it is not.
The problem is, especially with Grade A-307 Low Carbon All Thread, stock made exclusively from steel melted and rolled domestically is not readily available. In cases where the Melted and Made Domestically requirement must be strictly adhered to, Grade 55 All Thread can be supplied. This grade is readily available with full domestic traceability, mill certifications and recycle content. Stainless Steel has a similar problem in that much of the raw stock is melted in other countries and rolled into Threaded Rod inside the United States.