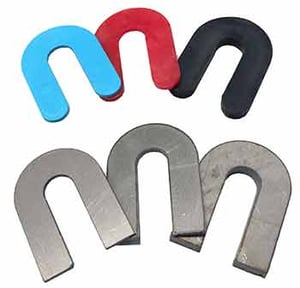 In selecting shim material, an important consideration is Fire Rating. For Concrete Contractors, shims often are used in the forms prior to pouring concrete. Since they will not be a permanent part of the structure any material that provides the necessary spacing should be acceptable. For steel Fabricators and Erectors, the shims are more often permanent and required to last the life of the structure. This requires proper material selection not only for Compressive Strength and Durability but also for Fire Rating.
In a recent example, a Glass and Commercial Door company came to The Steel Supply Company for shims. The size requirement was perfect for our Construction Grade Plastic Series 402-1, which is 2" x 1-1/2" with a slot width of 1/2".
See Full Slotted Plastic Shim Listings (click here)
The contractor had limited space to work with so it was important to use those dimensions. Our compression tests have shown that shim to withstand 30,000 lbs. on the 1/16" thick shim and 12,000 lbs. on the 1/8" and 1/4" thick. Note: It is standard for the compressive strength to go down as the thickness of a shim goes up. (To view the compression tests click on the link above. Below the heading is the link to the Compression Test Results.)
The particular job was a Hospital, installing swinging doors. In this case it is especially essential that the doors remain functioning in any emergency, most importantly a fire. The Polypropylene or High Impact Polystyrene used to make our plastic shims are required to have a melting point of not less than 170° F. This is not actually when the plastic becomes liquid or oxidizes, but when it is softened so pressure will cause permanent deformation. Obviously any concentration of fire even near this installation would quickly bring the temperature well above that.
To satisfy the Fire Rating requirements it was necessary to use steel shims. The melting point of standard low carbon and mild carbon steel is 2,600° F. Carbon high steels have a melting point of 2,500° F. If added temperature resistance was needed Stainless Steel has a melting point of 2,750° F as well as having the ability to resist rusting should any moisture be present.
While The Steel Supply Company stocks over 150 different steel shims, both plain steel and hot dip galvanized, all are squares or rectangles meaning they have corners. For installation purposes this customer required the header have a radius.
See Full Slotted Steel Shim Listings (click here)
To produce these shims we used our Laser cutting capacity. The upside of laser cutting is partly in the ability to hold very close tolerances but more so in that there is no dross, or roll on the edge of the cut. This leaves a perfectly flat shim surface that will make full contact with the separated members on both sides. Another benefit to laser cutting is its ability to cut thin material without damage to the product. We often laser cut shims down to 1/32" with no deterioration of the shim edges.