Most Masonry Anchors are intended to be welded to Columns or Beams running straight up and down; i.e. perpendicular to the foundation. This is true of Rod Anchors, sometimes referred to as Weld-On Wire Ties, shown in the photos below and Slotted Channel, which is also called a Gripstay™ Channel or Channel Slot Anchor.

At times the web is not wide enough to accommodate the full length of the Masonry Anchor and the welder will set them at an angle. This will work but there are some points to remember.
The "Rise" in a Rod Anchor (the section that is set off from the web) and the slot in the Slotted Channel run approximately 5". It is designed to maximize the likelihood of overlapping a mortar joint when the block wall is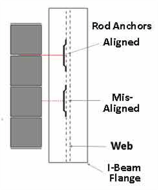 set in place. Red brick is a standard 2-1/4" high, sometimes going up to 3-1/2" but usually not much more than that. Cinder Block, on the other hand is 7-5/8" high and allows for a 3/8" joint so the combined height is 8". Even if the Masonry Anchor is upright, the mortar joint will not automatically match up. Tilting the Masonry Anchor at an angle decreases the vertical run and lowers the possibility of matching up with the mortar joint.
The same holds true in the case of the Slotted Channel. But a more important point is that the connection is also weakened. Regardless of how the Slotted Channel is positioned on the I-Beam the Insert that clips into it will be horizontal. By slanting the slot it widens the open area for the clip to interact with.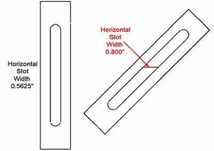 For this reason, Slotted Channel should never be installed any other way but perpendicular to the foundation.
To accommodate any difficulties such as these The Steel Supply Company stocks Rod Anchors and Slotted Channel in 5" lengths as well as the full size 9" Rod Anchor and 8" Slotted Channel. To see the listings Click Here.
As well, we manufacture these items on an assortment of stamping, bending and wiring forming equipment specially designed for this work. Any set of dimensions and any material can be used to produce whatever Masonry Anchor you job requires.