Masonry Anchors
Rod Anchors, Wire Ties, Slotted Channel, Gripstay, Channel Slot, there are a lot of names, but two main products. The 1/4" diameter rod anchor and the 8" Slotted Channel. A lot of variations, but those two are the basis for most of the weld on Masonry Anchors.
Steel Fabricators can assure themselves of the quality of the Rod Anchor / Slotted Channel products they use by sticking to the basics. The material should be full thickness, and full length. We have seen examples where he material was undersized.
Standard Rod Anchor Dimensions:
Wire Rod used is a always a full .250" diameter. (+/- .003") Note: Fireproof Rod Anchors can be larger in diameter.
One of the ways we have seen competitors make this product less expensively is to reduce the diameter of the wire. Standard Carbon Steel Wire that could be substituted when making Rod Anchors can be either .225 \" dia. or even .218".
Another is make the Rod Anchor shorter. The decrease is taken from the 5" adjustment section in the middle. Again, this results in a cost savings but hands a problem down the road to the masons.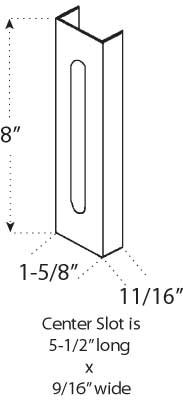 Slotted Channel Dimensions:
Like with the Rod Anchor, full dimensions and material thickness are important. 8" length allows the slot to be fully 5-1/2" and still have the channel be very rigid.
It is important to maintain the dimensions. While reducing the amount of material will make the Slotted Channel less expensive, it quickly compromises the performance. It interacts with the Channel Slot Anchor. For full pull out strength to exist the Weld-On Slotted Channel must flat and full width. This allows for the "T" on the Channel Slot Anchor to sit on a flat surface and not begining to deflect prematurely.
The Slotted Channel is also stocked inseveral variations; 2 hole for mounting to brick, 8' Continuous, and Stainless Steel.
We also carry the Inserts for the Slotted Channel.