The charts below show the results of tests that were performed on our wedge inserts on October 23, 2007. As a note, these results are for reference only. This is not a test of wedge inserts currently in stock and should not be considered as an accurate representation of the current wedge inserts in stock.
For the course of the text, the parameters were as follows: the regular size wedge insert, which measures 3-13/16" x 2-1/4" on the face, was tested once. The long wedge insert, 5-1/2" x 2-1/4", was tested twice. The method of testing the wedge inserts is shown below, in Figure 1.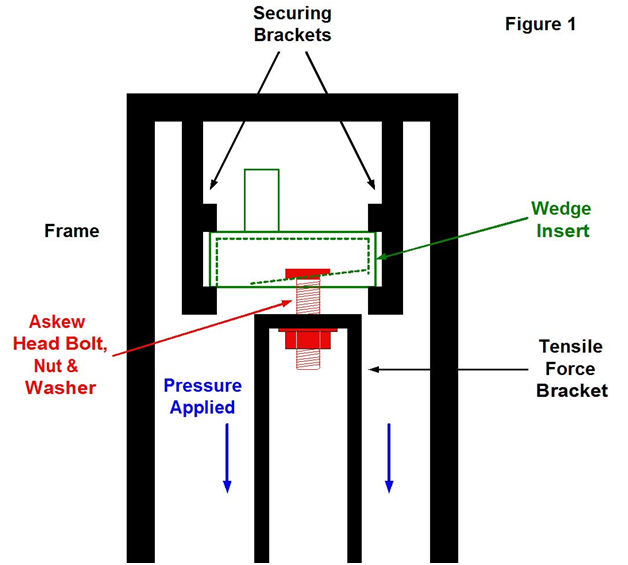 After clamping the wedge insert in place with the securing brackets, the askew head bolt was positioned approximately mid-way along the slope. The tensile force bracket was put in place and the washer and nut were threaded on until all the nut threads were engaged, but not snug. This intentionally left a gap between the tensile force bracket and the face of the wedge insert.
The pressure was developed using a computer controlled hydraulic pump, which was located below the frame. It is not shown in Figure 1.
Note #1: The position of the askew head bolt is important, as it will affect the results of the tests. In Figure 1, if the bolt was moved to the left along the slope, the face of the wedge insert would be thinner. This would naturally cause the insert to fail at a lower point than if the bolt is in the middle or far right.
Note #2: The wedge insert, askew head bolt, washer and nut were all hot-dip galvanized, so as to replicate field conditions as closely as possible.
The charts below represent the pressure as it built up, and the point at which failure occurred. In all three cases, the particular failure resulted from the face of the wedge insert cracking open. The bolts and nuts did not fail.
Test # 1
The Regular Wedge Insert fractured at 17,361.2 lbs.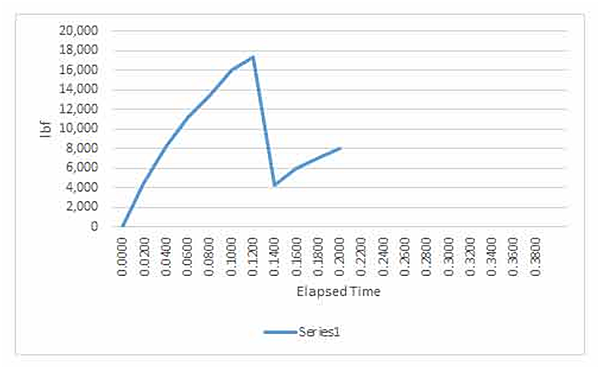 Test #2
The Long Wedge Insert fractured at 33,242.5 lbs.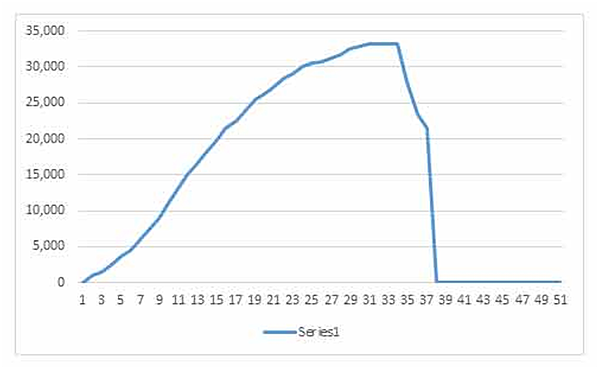 Test # 3
The Long Wedge Insert fractured at 29,610.1 lbs.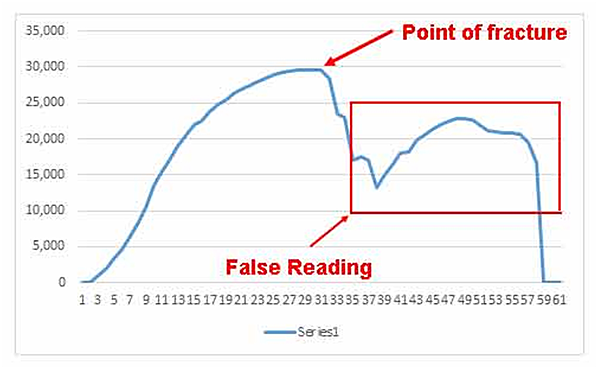 Note #3: In this particular test, after the wedge insert fractured and pressure dropped away, there was a small recovery, where the pressure briefly rose then fell away to zero. However, this should not be interpreted as feature of malleable iron wedge inserts. There is no additional strength designed into this product after the initial compromise. The recovery shown may have been caused by a reflex in the testing equipment, created by a temporary blockage as the face of the insert broke away.
As stated earlier, this test does not reflect the current wedge inserts in stock today. To see more information about the latest wedge inserts that The Steel Supply Company has to offer, click below!