Slide bearings are a very important aspect of the construction process, but the jargon involved can often be very confusing. There are some basic terms that need to be understood when discussing the methods of constructing a Slide Bearing or Teflon® Bearing Pad. The many different terms associated with slide bearing surface are listed below, while next week's article will cover backing plate options.
The actual material of slide bearings can be:
Teflon® - Pure Teflon® is typically a white solid material. Its coefficient of friction is 0.05 – 0.10. This is the third lowest coefficient of any known solid material. Teflon® is the brand name for PTFE that is manufactured by the DuPont Corporation.
PTFE (Polytetrafluoroethylene) – Pure PTFE is the same material as Teflon®, except it is produced by a generic chemical manufacturer and not subject to a registered trademark. The color of PFTE is also white.
Fluorogold®- A product that is a combination of PFTE, either Teflon® or generic, and glass fiber aggregates. The result is a material with significant compressive strength and a coefficient of friction of 0.06. It is also more durable than standard Teflon® or PTFE. The color of Fluorogold® is gold, as shown in the last photo below.
PTFE or Teflon® Bearing Pads
While the most common material is Fluorogold, slide bearings can be made using white PTFE or Teflon®. When this is required, the slide bearing assembly should be made with the PTFE or Teflon® Bearing Pad on the lower member only, and the upper member should be polished stainless steel. This is a very important designation.
Proper design of Slide Bearings will always have the upper member wider than the lower. As expansion or contraction occurs, the upper member moves and the lower member, which is stationary and should always remain fully covered.
That is done so:
A) The lower member always has consistent pressure on its entire surface, thereby providing the maximum support and wearing evenly.
B) The lower member is always covered so that debris cannot collect on it. This prevents anything from getting in between the upper and lower members, which could create an abrasive condition that would dramatically lower the expected life of the Slide Bearing.
If standard PTFE is used for both upper and lower members of this process, eventually the lower will begin to indent when it stays in one position for an extended period or as temperatures rise. Then, when movement occurs, the indent will create unnecessary pressure and premature wear. By always using a polished stainless steel surface of the upper member, the issue of indenting is alleviated.
Hypothetical Drawing Showing Teflon® on Both Upper and Lower Surfaces

To see properly constructed PTFE slide bearings, click here.
Flourogold Slide Bearing
One of the greatest benefits of Fluorogold is that it can withstand the uneven pressures and still not show any impression of the edge.
Shown at the bottom is a typical FC-1010-CS Slide Bearing. It has 3/32" thick Fluorogold bonded to a 1/8" carbon steel backing plate.
For link to the catalog of Fluorogold slide bearing and all other sliding bearing assembly configurations, click here.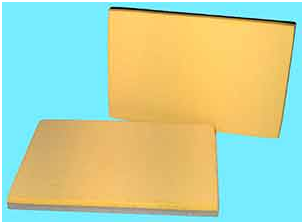 For any additional questions about the pros and cons of using Teflon® or generic PTFE, contact Steel Supply with any of your questions or comments! To see more slide bearing measurements and configurations, click below: