There is often a lot of confusion surrounding steel shims, and how to properly utilize them alongside a shim plate. For the record, a flat shim with no slots is referred to as a shim plate. In structural steel erecting, the steel shim often requires a slot to fit around a bolt. These are referred to as slotted shims. If the steel shim is a single piece with more than one slot, it is called a multiple slotted shim. Examples of both a shim plate and a steel shim are shown below.
Shim Plate Steel Shim

For structurally sensitive fittings like moment connections, shim plates would not be acceptable. The slotted shim, either with the single or multiple slot, is the correct alternative. They install quickly and, most importantly, provide the required full-surface contact. However, the downside of single or multiple slots are that the gaps being shimmed are not obvious until the steel members are installed. Only then can the erector be sure of how much gap needs to be filled. To be sure the erector has the proper thicknesses available, he or she will order these shims in shim packs.
The metal shims in a shim pack will always have uniform length, width and slot measurements. As far as thickness, the shim can contain any combination that will allow the installer to compensate within 1/32" of the required height.
Note: The phrase "shim pack" is often used as a general term by engineers and detailers to simply describe any packaged set of shims. For their own convenience, the installer usually orders the steel shims in bulk.
A typical shim pack may have 2 shims at 1/16" thick, 3 at 1/8" and 2 at 1/4" as shown below.
Slotted Structural Steel Shim
As shown in the single slotted shim drawing below, there are two shims at 1/16" each, and a total height of 1". This allows the Steel Erector to compensate anywhere from 0 to 1" in 1/16" increments. The result is a shimmed connection accurate to within 1/32" of thickness.
Metal Shim - Horseshoe Shim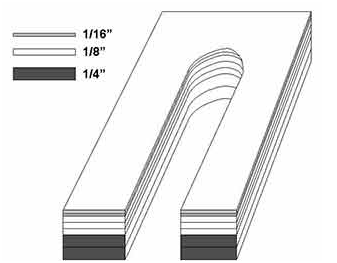 The accuracy factor is always determined by 1/2 of the thinnest shim. For example, assume the actual gap being shimmed is 17/32". The erector can shim either 16/32", by using the two 1/4" shims, or 18/32", by using two 1/4" shims plus one 1/16" shim. At 16/32", the connection will be under the gap by 1/32". At 18/32", the connection will be over the gap by 1/32".
A standard metal shim, also known as a horseshoe shim, or steel horseshoe shim is typically 3" wide. This accommodates the 3" centers that will interact with the structural shim.
The image above shows the same shim pack with a multiple slotted structural steel shim. Shim plates with multiple slots are usually made to order, due to the varying dimensions.
Multiple Slotted Structural Steel Shim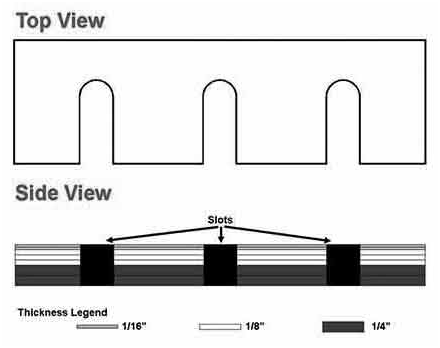 For more information about steel shims, or to order custom or pre-packaged shims, click below!