The askew head bolt is always and only used in connection with the wedge insert. This system is most commonly employed to secure relieving angles although it can be found in many other instances where steel members will be bolts to concrete.
Virtually all standard wedge inserts require 3/4" diameter askew head bolts. In renovation work, wedge inserts may be uncovered that require 5/8" diameter bolts. These would have been embedded prior to approximately 1980.
To select the proper length askew head bolt, it is important to note how the length is measured. Tapered head bolts, such as countersunk heads and oval heads, are measured by the full length from top to bottom. Standard with most bolts and screws that have a flat underside of the head is to measure the barrel only. Industry standard is to treat the askew head bolt as a flat bottom and therefore, it is measured barrel only. (fig.1)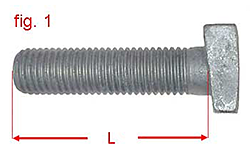 Any length bolt can be made to order, as can stainless steel when required.
The stock bolts are all Hot Dip Galvanized. Lengths available are; 1-1/2", 2", 2-1/2", 3", 4" and 6".
The second factor when determining the required bolt length is the recess is the wedge insert cavity. This varies based on which insert is used and where the bolt will be positioned. (fig. 2)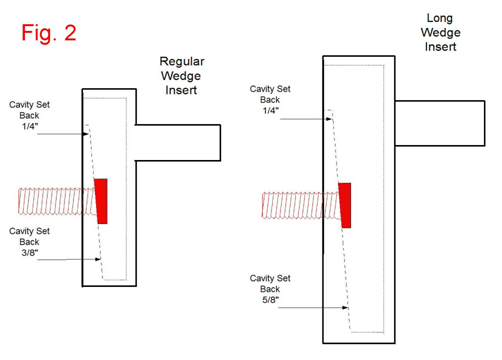 As shown in fig. 2, the cavity set back increases as the bolt is positioned lower.
Regular Wedge Insert – set back range = 1/4" to 3/8" with the middle being 5/16".
Long Wedge Insert – set back range = 1/4" to 5/8" with the middle being 7/16".
The remaining factors in determining bolt length are all visible and only one is variable. The drawing below (fig. 3) shows the configuration. In order, moving out from the wedge insert;
Shim – This will vary. There is the intended air gap and the unintended variations in the concrete. To fully compensate from narrow to wide gap, the job may require several different length bolts.
Relieving Angle – Add whatever the thickness of the angle is. This typically remains constant throughout a job.
Washer – 3/4" dia flat washer is approximately 1/8" thick
Nut – Standard for these assemblies is a finished nut. They are 41/64" thick. The last thread of any bolt is chamfered so it will not provide sufficient contact. To assure all nut threads make contact, allow for nut thickness of 3/4".