We have seen an increase in demand for slotted steel shims in 2014, no doubt in conjunction with the increase in construction projects in general. Occasionally the requests are urgent, with the customer hoping for next day delivery. Often, these are fabricators who intended on manufacturing their own shims and realized time was running out.
The Steel Supply Company keeps a large assortment of shims on hand both plain steel and hot dip galvanized. Heavy duty construction grade plastic, or High Impact Polystyrene slotted shims are also in stock.
The variety of numbers notwithstanding, customers should be aware the quantity of each item in stock can disappear quickly. The problem is that when slotted steel shims are needed, they are often required in large quantities. It is not uncommon to have a quantity of a specific shim in stock for over a year not selling at all, then have a large quantity taken on one order. For this reason the fabricator or erector would be insuring his own schedule by leaving a little lead time with shim needs.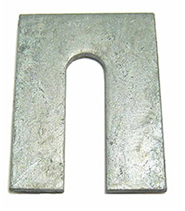 Our shim-making process utilizes heavy stamping machines capable of punching out a clean, flat shim every 6 seconds. That amounts to 600 shims per hour, not including the 2 hours of set up time required to load a 300 lb. punch and die set. Plain steel shims are sold "as struck," so they are ready to ship immediately. Hot Dip Galvanized shims require several extra days for transportation to the galvanizer, the plating process and transportation back.
Click here to learn more on manufacturing quality shims.
We always try to keep more than enough finished shims in stock and whenever necessary we'll pull out all the stops to get you what you need on time. It is still a good idea to build some lead time into the plane to ensure your job stays on schedule. Click below to view our shim selection.