Most often, slide bearings are employed in locations where all surfaces are 100% flat. In these cases, the slide bearing manufacturing and installation process are basic and straightforward.
There are cases where one or both of the steel members that are intended to slide are curved surfaces. There are two ways of dealing with this. In all cases, the method should be approved by the engineer and spelled out by the detailer on the drawings.
The first method is to fabricate an adapter to make the sliding surface flat. Using a common example, Fig. 1 shows a cut away of a pipeline. In this design, the curve of the pipe sits in a
fabricated steel mounting bracket that also provides a flat lower surface for the slide bearing. Note, the slide bearing is still the typical upper and lower element, with the smaller lower element stationary and the larger upper element moving with the expansion and contraction of the pipe.
Fig. 2 shows a more elaborate mounting bracket that ultimately results in a flat surface to allow for expansion and contraction.
In some cases, the project will require the slide bearing to actually be curved with the pipe. A curved slide bearing is sometimes referred to as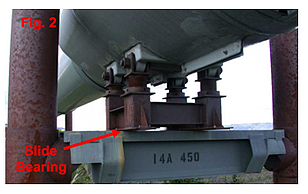 an ARC SLIDE BEARING. This must be made clear prior to producing the slide bearing, because the manufacturer will use a special flexible epoxy.
To achieve a permanent bond, this is done when both the steel backing plate and the Teflon®, Fluorogold® or PTFE are flat. The flexible epoxy is applied, the two members are clamped together and the entire assembly is baked at 450˚F until the epoxy is fully cured.
The finished assembly is then cut to size and rolled the required radius. The tightest radius these slide bearings can be rolled to is 4" (8" inside diameter). If this were done using standard slide bearings, the standard epoxy may crack and loose its bond between the steel and the Teflon®, Fluorogold® or PTFE. For this reason the fabricator should not attempt to roll standard slide bearings.
Even in the simplest application, there are still things that the fabricator needs to know. Click below for more blogs about slide bearings: