The easiest and most effective way to make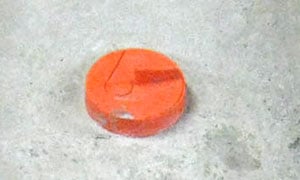 Handrail Post Holes or any hole in concrete is with the EZ Sleeve. Available in 6" high with a 3" hole diameter and 12" high with a 4" hole diameter, the EZ Sleeve is an inexpensive solution to the time consuming problem of core drilling.
The photo to the right shows and 6" EZ Sleeve set in concrete to a depth of 5-1/4". Once the concrete is fully cured the sleeve is easily removed by pulling the top tab with a pliers. The photo to the right shows the EZ Sleeve unraveling from the hole. This removal is literally a 2 second process, and leave a tapered hole and full grout to concrete contact on the sides.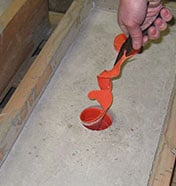 This equates to significant cost savings over core drilling. The Steel Supply Company has sampled some customers and found the estimated time for core drilling a 3" diameter hole 6 inches deep is between 5 and 10 minutes. What many customers neglect to include in their core drilling expense estimates is the cost of the core drill bits, the tool itself and the additional difficulty when rebar is blocking the drill.
One Note: There is an important factor when considering EZ Sleeves for your project. Placement needs to be as accurate as possible. Obviously the EZ Sleeve is of no help if the holes don't align with your Handrail Posts. Try to get the best field measurements possible and ensure there is good coordination between the field measuring/installing people and the fabricator.
Known by alternate names such as Post Hole Sleeve, Handrail Post Sleeve, Rail Post Hole Sleeve, etc., add it all up and EZ Sleeves offer a practical way to increase profit.
As always, with any questions feel free to give us a call !