The Steel Supply Company stocks round bar from only the best U.S. manufacturers like Nucor, CMC and Steel Dynamics. Steel round bar is stocked in F1554 grades A36, grade 55, and A-105. While not included in the ASTM F1554, round bar grade A449 is sometimes called out on DOT or transportation projects. The Steel Supply Company carries an ample amount of A449 bar, as well.
Manufacturing starts by cutting the round bar to length. Chamfering then adds the beveled edge to the round bar, which allows for an easy nut fit on the final bolt. Threading is the most critical step of the manufacturing process. ASTM F1554 clearly states that construction grade anchor bolts be made with a 2A tolerance. This assures the bolt's strength while allowing for proper nut fit.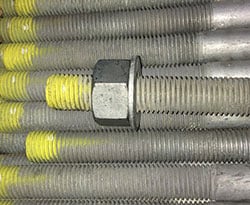 The Steel Supply Company then uses a powerful rotary draw bender that applies even pressure to the round bar while bending it around a mandrel. This creates a hook with no indentations that could compromise the bolt's strength. Or, the embedded end is threaded to accept an embed nut; often a plate washer is included and welding is required.
Hot dip galvanizing increases the diameter of the bolt. Careful coordination between the thread pitch and zinc coating is required to assure the finished bolt threads correctly.
The finished bolts are then packaged for shipment with the hardware. Steel Supply offers a full range of nuts and washers both plain finished and hot dip galvanized. Regardless of the size of the bolts, packaging is done uniformly and carefully to assure your order is delivered accurately and on time.
Controlling the entire process and keeping ample stock of raw supplies provides the ability to produce excellent quality anchor bolts with quick turn around times.
For more information on The Steel Supply Company's Anchor Bolt Manufacturing Process Click Here.