As described in an earlier blog, 5/8" Diameter Askew Head Bolt published on July 20, 2013, in new construction embedded Wedge Inserts will require 3/4" diameter Askew Head Bolts. The only time a project requires 5/8" diameter Askew Head Bolts is during a renovation where the Wedge Inserts are pre-existing. Usually this would be a structure constructed prior to approximately 1970.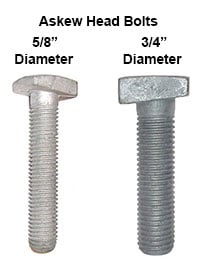 The problem this poses is there is very little call for these older model Askew Bolts. From a manufacturing standpoint all the efficiency is in volume. The 3/4" diameter Askew Bolts are produced in lots of 10's of thousands at a time, hot dip galvanized in special processes that keep the liquid zinc very hot and allows the threads to be completely clear of solidified zinc. This assures consistent quality and an economical product.
Conversely, the 5/8" diameter Askew Head bolt is manufactured in very small lots, sometimes as few as 3,000 pcs. Due to project timelines and delivery demands we usually do not have the luxury of bundling a group of orders together to increase the run quantity. Originally The Steel Supply Company manufactured the 5/8" Askew Bolt in 6" lengths, then cut to size based on the job requirements. While this allowed the run quantity to be maximized, the cutting costs offset any savings.
Adding to the efficiency problems with small run hardware is the possibility of a Made in USA requirement. There is nowhere near enough volume on this item to manufacture in the USA and stock a second, more economical duplicate line from overseas. To be sure we can cover a Made in USA requirement all stock of 5/8" diameter Askew Head Bolts is made in USA, from domestic round bar. This includes galvanizing also.
Both factors, small production runs and 100% Made in USA, add to the difficulty of efficiently stocking and distributing these items. To assure quality and also prompt shipments the 5/8" Askew Bolt is stocked in lengths of 3", 4" and 6". These are available for same day shipment. If an irregular length is required, they can still be cut to size. It is recommended to leave extra time before shipping for projects requiring a significant quantity of special length cuts.