There are many specifications written covering Anchor Bolts but the predominant one we see called out on drawings is ASTM F1554. The most current version is ASTM F1554-20. It covers exclusively the requirements for manufacturing Cast In Place Anchor Bolts.
While it does cover the full range of manufacturing, coating, marking, testing, and record keeping the basic steps are;
Round Bar - Grade A-36, Grade-55, and Grade A-105
Certification – all round bar should be documented with mill test certifications. It is important the certification shows the mill name, location and heat number. This allows traceability in the event any other information requires further verification.
Thread tolerances – F1554 calls for a UNC 2A (Unified National Coarse) when not specified
Hardware should be specified on the drawings
Nuts can be generic finished hex nuts or Heavy Hex. In the case of finished nuts certificates of compliance apply, for Heavy Hex nuts test reports should be maintained.
Washers – Flat Washers use certificates of compliance, where hardened F436 structural washers will have manufacturer's test reports.
Plate Washers are manufactured from carbon steel and meet the specifications on the drawings, which typically call for Grade A-36, 529, or 572. Multigrade steel certifications often show one heat which can cover all the variations.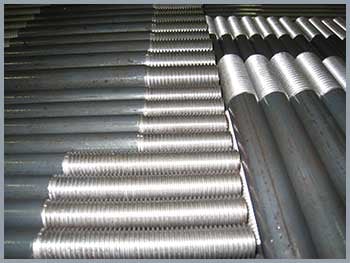 Important note regarding A-307 specifications. Prior to 1994 cast in place anchor bolts were included in the ASTM A-307 specification. Beginning in 1994 when the first version of F1554 was produced cast in place anchor bolts were separated from the A-307 specification. This is important when a drawing calls for a cast in place bolt to be made using all threaded rod. To meet F1554 standards the steel must be a minimum of A-36 and be tested as such. A-307 all threaded rod is often made from steel that will not certify as A-36. Also, most drawings do not show a required thread class, which determines the tolerance of the fit between the bolt and nut. F1554 requires, when not shown, a 2A thread class. A-307 is typically a 1A (looser) fit. Again, this does not qualify if F1554 default standards apply.
Bending, as in the case of a hooked anchor bolt, is seen less often as straight bolts with embedded plate washers are more often designed into projects. However, when bent bolts are called for they most be bent on a mandrel with the inside radius being not less than the diameter of the bar. There should also be no specific indentation point and the cross-section of the bar at the bend shall not be less than 90 percent of the diameter of the straight portion.

With the proper equipment, Anchor Bolts can always be made to F1554 specifications. The Steel Supply Company, as well as many other U.S.-based manufacturers, adheres to these standards even for orders that do not require it. With any questions regarding anchor bolt specifications or production, as always feel free to call. Feel free to contact a sales representative with any questions or requests at 631-212-3236 or info@thesteelsupplyco.com.