Steel Supply Co Home > Steel Products > Clevis Rods and Turnbuckle Rod Assembly > Clevis Pins
Clevises Pins
Below are several options for the manufacture of Clevis Pins, including finish, diameters, length and materials.
Clevis Pin Specifications
Material: C-1035, SA-182-F11, F22, Stainless Steel (See note on Stainless Steel surface rust.)
Finish: Self-Colored, Galvanized, Plated, Electro-Polished
Options: Carbon Steel, Other Carbon Alloys, Heat Treating
Note: Pin diameters and lengths will vary with the dimensions of the Clevis. The Clevis and Clevis Pin should be designed concurrently.
Clevis Pin - Straight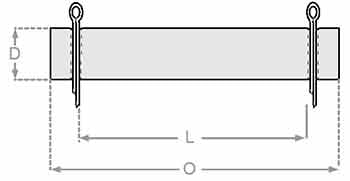 Clevis Pin - Headed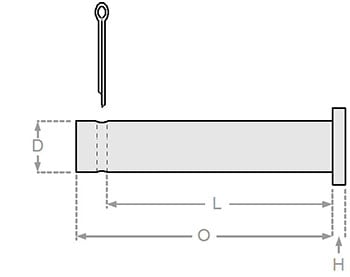 The operative measurements on a Clevis Pin are:
Clevis Pin Diameter
Clevis Pin diameter is a function of the overall load the Turnbuckle Assembly or Clevis Rod Assembly can support. This should be determined by the project engineer. The Clevis Pin Hole is usually 1/16" larger in diameter than the pin. For pin diameters 3" and larger allow 1/8" extra for the hole.
Clevis Pin Length (L) inside the cotter pins or the head and the cotter pin.
For Clevis dimensions referred to below, see the Clevis Chart.
Length can be determined by the fabricator. To maintain the structural integrity of the assembly, the Clevis Plate should be specified by an engineer. Starting with the Clevis Plate width add 1/16" to 1/8" extra for clearance inside the forks of the Clevis. Add the thickness of the forks twice. Add the thickness of any washers required twice. Add approx. 1/8" for workability. The total is the "L" dimension.
Note: For the Clevis fork thickness (T), be sure to use the higher variable value shown on the Clevis chart.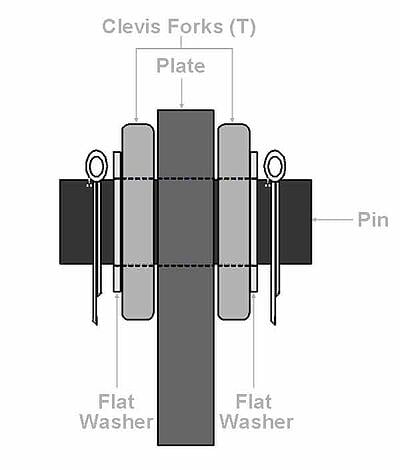 To learn more about our Turnbuckle Assemblies, contact us or request a free quote today.