Steel Supply Co Home > Steel Products > Primers, Coatings and Cold Galvanize > Water Based Shop Coats
Water Based Steel Primers
The Steel Supply Company uses a propriety formula for water based coatings designed specifically for Structural and Miscellaneous steel fabricators.
Water Based steel primers are being specified on more projects than previously and the demand is expected to continue to grow. The principle benefit is much lower levels of Volatile Organic Compounds, or VOC's. In short VOC's are contained in the solvents that evaporate out out paint while it is drying. Alkyd (oil based) primers have VOC levels 3 to 4 times higher than water based.
LEED PROJECTS
LEED, or Leadership in Energy and Environmental Design, is a system of designing and engineering construction projects so they make the minimum impact on the environment and the finished structure will use energy as efficiently as possible. To read more about LEED systems and initiatives, click here.
An important part of LEEDS projects is the coating system used. Often the steel package will require all coatings have VOC levels of 100 grams per liter or less. At present we know of no alkyd (oil) based steel coatings that can meet that specification, so it automatically defaults to water based primers and top coats.
Used correctly, in the right conditions water based steel coatings can be very effective as well as being environmentally conscious. Some things to watch for are: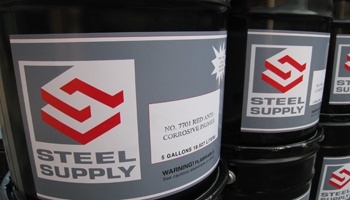 Water based coatings will not dry properly when it is too cold. The solvents will evaporate before the paint is dry leaving a sticky film. This is known as a cold cure.

Carbon steel beams, angles, channel, etc., will remain cold long after the air around them is warm so even though a shop is heated during the day the steel surfaces may still be too cold to coat with water based primers.
Oil and water do not mix. Any residual oil based surface contaminants on the surface of the steel can stop the water based coating from bonding to the steel.
Water based coatings have a shorter shelf life than oil based coatings. Each manufacturer has different properties and will recommend a given lifespan in liquid form, but in general the prior expectations developed using oil based paints do not carry over.
For all coatings but especially water based primers substrates should at least be SSPC-2 cleaned. If fabricating or priming handrails or any cold rolled steel pay special attention to any oil film that may be on the steel surface from the mill. This film can be removed by wiping thoroughly with lacquer thinner.
| | | | | |
| --- | --- | --- | --- | --- |
| Steel Supply Item # | Color | VOC Info* | Packaging | Product Date Sheet |
| WB-Red | Red Oxide | Below 100 gm/liter | 5 Gallon Pails | Data Sheet |
| | | | 53 Gallon Drums | |
| WB-Gray | Gray | Below 100 gm/liter | 5 Gallon Pails | Data Sheet |
| | | | 53 Gallon Drums | |
* VOC Info
Many states apply a limit of 340 gm/liter to industrial coatings for VOC (volatile organic compound) compliance. Consult your state or local regulations for the limits that apply in your area
Return to Primers, Coatings and Galvanize
To learn more about our Water Based Steel Primers, contact us or request a free quote today.