Steel Supply Co Home > Steel Products > Clevis Rods and Turnbuckle Rod Assembly > Clevises
Clevises
Steel Supply Co. offers a full line of Clevises with exceptional quality, available from 1/4" diameter / 1 lb. to 4" diameter / 90 lbs. Clevises can be made to job specifications.
Clevis Specifications
Material: C-1035, SA-182-F11, F22, Stainless Steel Clevis

(See note on Stainless Steel Clevis surface rust.)

Threads: U.N.C./U.N.F. Class 2B, Right or Left Hand, Metric
Finish: Self-Colored, Galvanized, Plated, Electro-Polished
Options: Heat Treating, Special Threading
Note: Pins Sold Separately – Straight or Headed 100% Domestic Materials, Certifications Provided Upon Request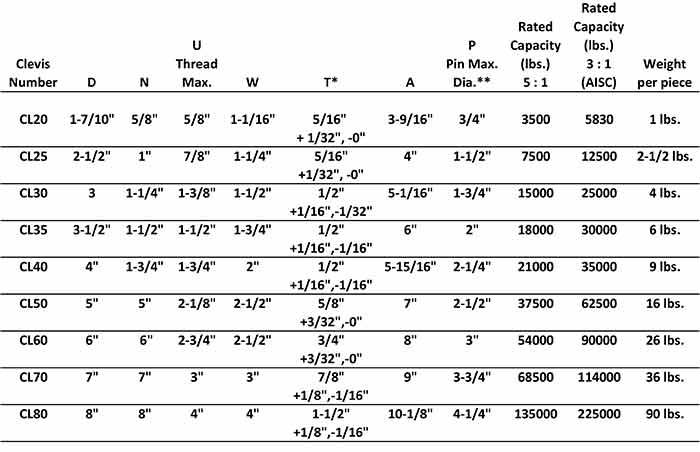 * Note: T Dimension. The variables directly below each "T" Dimension represent the amount of variable in the value shown. + is above the value, - is below.
** Note: Pin Hole will be 1/16" to 1/8" larger than the Maximum Pin Diameter.
The Clevis chart above shows many of the measurements as ranges. For example Clevis #CL40 shows a thread maximum diameter of 1-3/4". The thread can be any diameter up to that. The same is true for Clevis Pin diameter (P), and Clevis Grip width (G).
These variables allow for hundreds of different configurations.
Grinnel Standards are a set of basic Clevis designs that narrow down the range of possibilities into a few common configurations.
To learn more about our Clevises, contact us or request a free quote today.