Steel Supply Co Home > Steel Products > Ceramic Weld Backings > 1G15-RD



Ceramic Weld Backing – 1

G15-RD
Steel Supply Co. offers Katbak Ceramic Weld Backings in sizes 1/4" to 2". Below are the specifications for the ceramic plate welding item # 1G15-RD.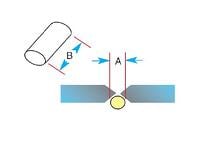 Ceramic Weld Backing Specifications

A: 5/8 in.
B: 1 in.
To learn more about Katbak Ceramic Plate Welding or any other items in our Ceramic Weld Backing category, contact us or request a free quote today.