Steel Shots: Hudson Yards' Tallest Tower Is Rising
For Steel Fabricators all over the eastern United States this mamouth project is producing fabricating and erecting work of all kinds, and moving on a demanding schedule.
Below is reprinted from Modern Steel Construction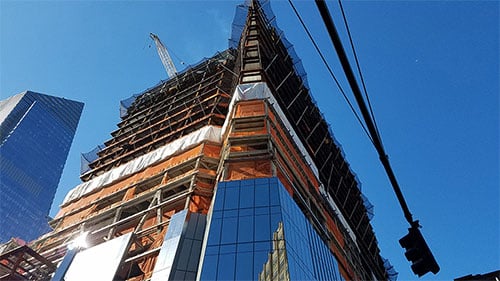 When completed in 2019, the 90-story, steel-framed skyscraper will rise 1,296 ft and house the city's highest open-air observation deck, which cantilevers out from the building at 1,100 ft. (Photos: AISC)
30 Hudson Yards — a 90-story, steel-framed skyscraper slated to be the anchor of the new Hudson Yards mixed-use development in New York — is on the rise. At 1,296 ft, it will be completed in 2019 as the tallest tower in the development, the second-tallest office building in New York and home of the city's highest open-air observation deck, which cantilevers out from the building at 1,100 ft.
Thornton Tomasetti is providing the structural design services for the 2.6-million-sq.-ft tower with a 1.3-million-sq.-ft retail podium. According to Thornton Tomasetti, the tower's location presents a major challenge for this project. A significant portion of the building footprint is situated over a working rail yard, which limits the locations for building foundation and support columns because of track locations and clearances. The lower levels of the tower will contain multistory transfer trusses to distribute column loads to the nearest foundation locations. In many locations, these transfer systems will extend into the retail podium, requiring the two buildings to be constructed as one structure. W&W Steel (an AISC member and certified fabricator and erector) is erecting about 100,000 tons of structural steel for project.
30 Hudson Yards is one of several buildings planned for the 28-acre Hudson Yards site — the largest private real estate development in the history of the U.S. and the largest development in New York since Rockefeller Center. When completed in 2025, the site will include more than 17 million sq. ft of office, commercial and residential space. Built on top of an active rail yard, and located steps away from a recent subway extension, Hudson Yards will be thoroughly incorporated into the larger urban fabric. To learn more, visit www.hudsonyardsnewyork.com.